Kawasaki Vulcan S – Your Way
The Kawasaki Vulcan S is not your average cruiser. It stands out from the crowd with its Parallel Twin engine based on the superb Kawasaki ER6 and Versys 650. Its very modern and urban looks will ensure that it is always noticed wherever you decide to take it.
A liquid-cooled, DOHC, 8-valve 649cc Parallel Twin with fuel injection is at the heart of this urban cruiser and delivers smooth, responsive performance especially in the low and medium rpm ranges. The engine was tuned for rider-friendly power characteristics that will inspire confidence in new riders as well as the more experienced. The Vulcan S offers smooth effortless starts from a standstill and smooth acceleration.
Together with the compact engine and backbone-style rear frame, the frame's design creates a package that is slim, low, lightweight and compact. Low overall weight, 18″ front and 17″rear tyres coupled with quality suspension result in a bike with light, easy handling and easy manoeuvrability which all adds to fun of riding it.
Compared to most other smaller-displacement cruisers, the Kawasaki Vulcan S has a significant weight advantage thanks to its compact engine and chassis design. Weighing in at just 228 kg wet, the bike's lightweight is apparent as soon as you lift it off of the side stand.
A key feature of the new Kawasaki Vulcan S is the low seat height. Being able to easily put your feet on the ground when stopped is one of the most important factors in feeling comfortable and confidant on a motorcycle. At only 705 mm, the Vulcan S can be an option for everybody.
The Kawasaki Vulcan S Sport comes with a wind deflecting bikini screen and a full Arrow sports exhaust system. Whereas the Vulcan S Light Tourer comes with a large touring screen, a fixed backrest and a set of fixed leather panniers.
Customisation is also readily available with variations such as removing the rear seat and replacing with a tubular luggage carrying rack being just one of the options due to be available from the range of Kawasaki accessories.
Don't just take our word for it, give us a call to arrange a road test. We are sure you'll enjoy it.
Why not take a look at our Accessorise My Kawasaki page where you can search for and buy genuine Kawasaki accessories for your Vulcan S.

Exclusive parts for the Kawasaki Vulcan S Sport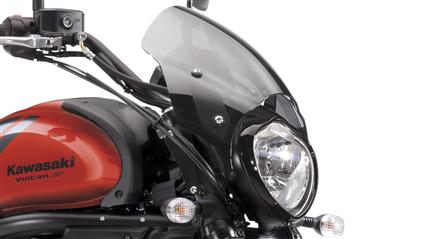 Café deflector
Cafe style deflector for additional wind protection.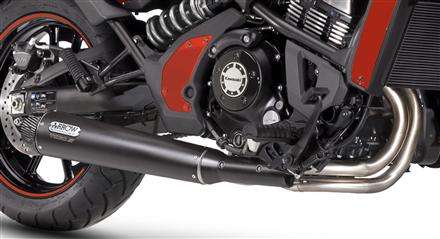 Sports exhaust (Full system)
Arrow matt black exhaust system for Vulcan S. Full system made of stainless steel with catalyst and carbon endcap. This system is lighter compared to the stock exhaust system and gives a deep sporty sound. This exhaust system is homologated according to Euro4 regulations (emissions and noise) and has ECE type-approval.
Exclusive parts for the Kawasaki Vulcan S Light Tourer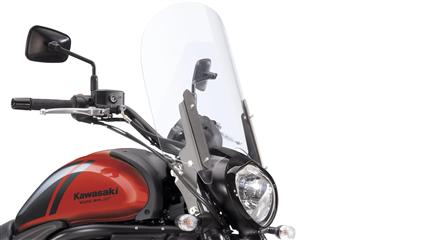 Windshield Large
Large windshield for improved comfort and wind protection.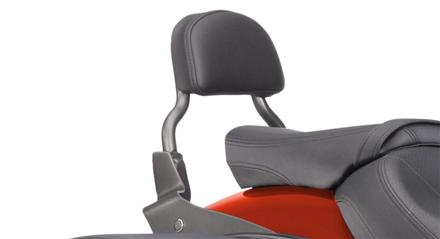 Passenger backrest (Fixed)
Padded backrest provides passenger comfort.
Black steel construction rises 20cm (8") tall from seat surface.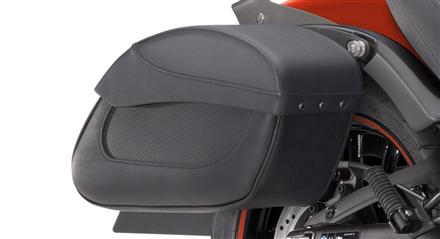 Leather saddlebag kit (Fixed)
Keep your personal items secure on the road with saddlebags that complement the overall look of your bike.
This black leather saddlebag set has reinforcements to keep the shape in all riding conditions.
Common to All Vulcan S Models:
Low Seat Height
Being able to easily put your feet on the ground when stopped is one of the most important factors in feeling comfortable on a motorcycle. At 705 mm, the Vulcan S's low seat is very accommodating.
Easy-to-Read Instrumentation
Original-design instrumentation cluster features an analogue-style tachometer and multi-purpose LCD. Convenient features keep riders fully informed of operating conditions.
Adjustable Footpegs
3-position footpegs allow riders to adjust foot position to suit size and preference. Three positions available: STD, 25 mm forward, 25 mm back.
Large Disc Brakes
Large-diameter disc brakes balance ample stopping power with easy control for beginning riders.
Adjustable Clutch/Brake Levers
Multi-position levers allow riders to adjust lever position to suit hand size and preference.
Under-Engine Muffler
Muffler located under the engine contributes to a low centre of gravity, and is tucked out of the way, making it easier to reach the ground when stopped. The muffler's design conveys both power and style.
Relaxed, Foot-Forward Riding Position
The compact engine and slim frame result in a design that is narrow at the knees and feet. Forward positioned footpegs are ideal for relaxed, cruiser style riding.
Easy-to-Control 649 cm3 Liquid-Cooled, 4-Stroke Parallel Twin
Liquid-cooled, DOHC, 8-valve 649 cm3 Parallel Twin with fuel injection delivers smooth, responsive performance, especially in the low and medium rpm ranges. The engine was tuned for rider-friendly power characteristics that will inspire confidence in new riders. The Vulcan S offers smooth starts from a standstill, smooth acceleration, and a satisfying pull when accelerating. The strong acceleration facilitates highway merging and passing.
Long Range
With its 14 litre fuel tank capacity and the Parallel Twin engine's good fuel economy, the long range offered by the Vulcan S means riders can go longer between fill-ups—convenient in town, and reassuring when out on a daytrip.
ABS
Sudden over-application of the brakes, or braking on low-grip surfaces (surfaces with a low coefficient of friction) such as wet asphalt or manhole covers may cause a motorcycle's wheel(s) to lock up and slip. ABS was developed to prevent such incidents. Kawasaki ABS systems are controlled by high precision and highly reliable programming formulated based on thorough testing of numerous riding situations. By ensuring stable braking performance, they offer rider reassurance that contributes to greater riding enjoyment.
Economical Riding Indicator
Using high-precision electronic control for engine management, Kawasaki models can achieve a high level of fuel efficiency.
However, fuel consumption is greatly affected by throttle use, gear selection, and other elements under the rider's control. The Economical Riding Indicator is a function that indicates when current riding conditions are consuming a low amount of fuel. The system continuously monitors fuel consumption, regardless of vehicle speed, engine speed, throttle position and other riding conditions. When fuel consumption is low for a given speed (i.e. fuel efficiency is high), an "ECO" mark appears on the instrument panel's LCD screen. By riding so that the "ECO" mark remains on, fuel consumption can be reduced.
While effective vehicle speed and engine speed may vary by model, paying attention to conditions that cause the "ECO" mark to appear can help riders improve their fuel efficiency – a handy way to increase cruising range. Further, keeping fuel consumption low also helps minimise negative impact on the environment.