All the lights – including the headlamp, taillight as well as turn signals and license plate lamp – are equipped with LED bulbs. Low power consumption and high durability improve maintainability while providing high-light intensity and high illumination. The light's vivid colouring contributes to excellent visibility from the surroundings, significantly contributing to enhanced night riding safety.

The frame mounted headlamp also influences the styling around the front and creates an innovative look that is different from previous naked models.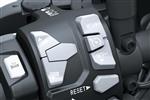 Electronic Cruise Control
Kawasaki's cruise control system allows a desired speed to be maintained with the simple press of a button. Once activated, the rider does not have to constantly apply the throttle. This reduces stress on the right hand when travelling long distances, enabling relaxed cruising and contributing to a high level of riding comfort. Operation of the Electronic Cruise Control is conveniently activated from the left handle.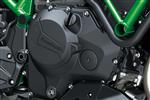 Assist & Slipper Clutch
The assist cam reduces the clutch spring load for lighter clutch lever operation, which helps reduce rider fatigue in city riding situations like stop & go traffic or traffic jams. The slipper clutch relieves pressure from back-torque to help prevent the rear tyre from hopping and skidding when downshifting.