Twin LED headlights, each featuring low and high beam as well as a position lamp, offer increased brightness.

New Tyres: Lighter Handling
New Dunlop Sportmax Roadsport 2 tyres contribute to lighter handling.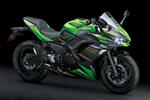 Sharper Ninja Styling
The Ninja 650's sharper new styling gives it a sportier appearance and even stronger Ninja family looks. Its sleek and sporty design inspires confidence in riders.

TFT Colour Instrumentation
The all new digital TFT colour instrumentation – a Kawasaki first in the 650cc class – gives the cockpit a high-tech, highgrade appearance. The new meter also offers additional features unavailable on the previous model.

Increased Passenger Comfort
Rear seat with 4 thicker urethane (approximately 5 mm thicker at the centre, 10 mm thicker at the sides) and sides that extend more widely offers increased passenger comfort.

Improved Windshield
Prioritising a sportier appearance, the redesigned windshield is now lower and flush-fit with the upper cowl. It is set at a more upright angle to offer the rider decent wind protection.

Smartphone Connectivity
A Bluetooth chip built into the instrument panel enables riders to connect to their motorcycle wirelessly. Using the smartphone application "RIDEOLOGY THE APP," a number of instrument functions can be accessed, contributing to an enhanced motorcycling experience.