While maintaining the vintage ride feel of a true classic machine, 18" wheels both front and rear contribute to handling slightly sportier than that of the original W800.

Greater Stopping Power
Stronger stopping power comes care of a larger-diameter ø320 mm front disc paired with a ø270 mm rear disc

Traditional Instrumentation
Separate speedometer and tachometer are complemented by a simple LCD screen and a complete set of indicator lamps.

Classic Upright Riding Style
W800 Street's classic upright-style handlebar brings the riders hands up and back in a position reminiscent of the W1.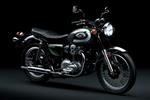 Crafted Exhaust Note Emphasising 360º Crankshaft
The twin mufflers were carefully tuned to bring out the characteristic note of the Vertical Twin's 360o crankshaft engine configuration, a configuration maintained from Kawasaki's original W – creating a hearty roar to complement every twist of the throttle.

Enhanced Suspension
A larger diameter front fork with stiffer springs, more rigid lower triple-clamp and stiffer rear shock complement the more rigid new frame.

Low Profile Seat
Long, low-profile tuck & roll seat has plenty of room for the W800 Street rider and passenger. Urethane at the front of the seat was shaped to facilitate the reach to the ground. Piping around the edge of the seat adds to the retro image.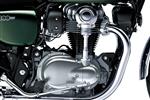 Iconic 773 cm3 Vertical Twin Engine
Long-stroke engine tuned for low-mid range performance delivers plenty of torquey feel-good power. The rich engine pulse reminds riders that they are piloting a Twin engine machine. Fuel injection delivers clean, efficient, hassle-free operation.

Round LED Headlamp
A blend of retro and modern designs, the large ø170 mm LED headlamp casts a bright, white light for great night-time visibility. It features six chambers (four for low-beam, two for high-beam). Position lamps in the highbeam chambers ensure the whole lamp appears lit, like a retro-style bulb headlamp. Details like a convex lens and chromed headlamp ring add to the high-quality, classic design.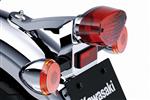 Sculpted Fuel Tank
The voluptuous curves of the fuel tank naturally draw the eye, making it another key styling element. Its larger volume gives it more presence, creating a more powerful impression than its predecessor.